Since I had finished a maxi dress for me my little Madame also wanted a dress that should »reach the floor«! As always it took me a while to search for the perfect pattern but than instantly fell in love with the cascade maxi by Chalk and Notch.
I just love every detail about this beautiful pattern! Not too difficult to sew up with a simple yet elegant outline and nonetheless stunning because of its floor-length and the width of the high-low hemline. The higher hemline in the front makes for a child-friendly wear to not always trip on the dress and the longer part in the back feels like a princess train. And with the elastic strap in the back it sure is much more easy to pull on and off than a real princess gown. Sorry for rhapsodizing!
There is a German translation of the instructions by Näh-connection available which was easy to follow, including the option to do french seams which is always a good idea with delicate fabrics when you don't have a serger like me. I had this big enough piece of red rayon from my mum in my stash that once was a curtain. For a kids dress this pattern uses up some more fabric than I'm normally used to, about 1.8 meters for size 4 to be precise, but on the other hand, that's obviously just what it takes to make a princess dress.
What went wrong? The instructions are quite fine by the way, just my usual self had to mess up something, otherwise it wouldn't ne me: I decided to add some lace to the hem, measured both, hemline and laceband and thought, I had enough of it. Well, something in the process went wrong and in the end I had a date with my seam ripper (my husband starts to get jealous), undid half of the lace, reduced the width of the dress by two centimeters at the sides and sewed the lace back on. Drama also with the elastic band in the back: I was short on the elastic band in the right width and because of sewing on the weekend when all shops were closed I decided to sew a second tunnel in the back and use two rows of a thinner elastic band (I just couldn't wait any longer to finish the dress – understandable, right?). But right in the middle of pulling through the elastic thread the safety pin got stuck, broke when trying to get it back out and nearly ripped up the fabric.
In the end everything worked out as planned and the two thinner straps of elastic look comfy to wear. The dress is absolutely gorgeous! The rayon has the right amount of drape, the straps stay where they should and don't slide down, overall fit is great. Despite the length the dress still allows to run around in it, play and swing 'till reaching the trees! My little Madame was so excited and danced around feeling like a princess and I was smitten watching her.
Yes, that was sold as a »C« not a rainbow and topstitching it with neon thread was mandatory. Don't ask …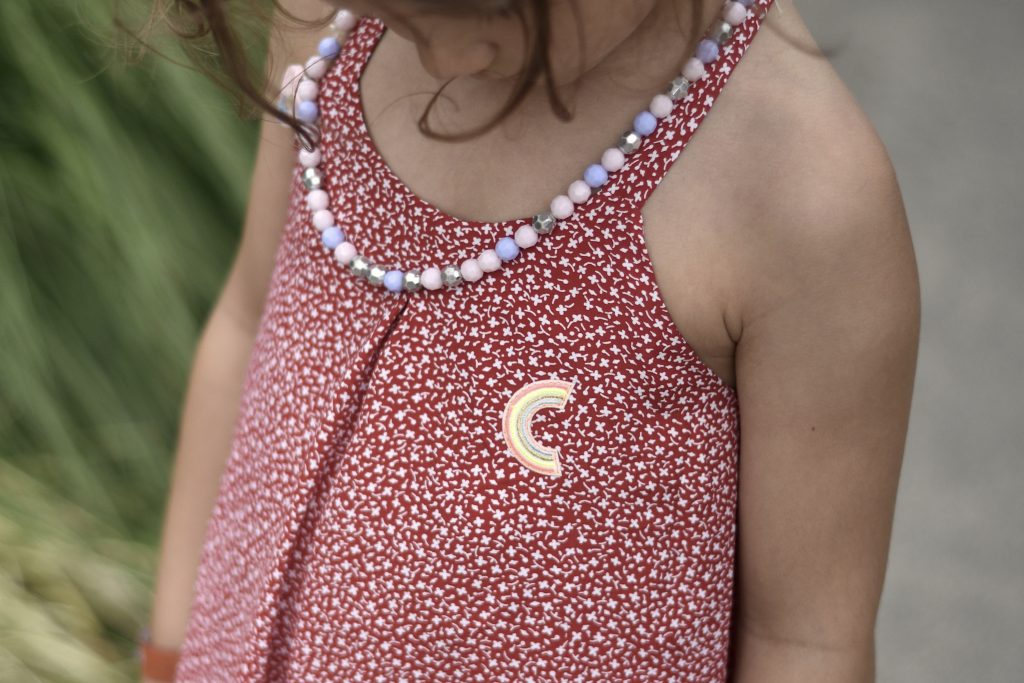 Conclusion: I can absolutely recommend this pattern, clear instructions, easy to sew, looks just gorgeous! There definitely will be a bigger dress when this one gets too small.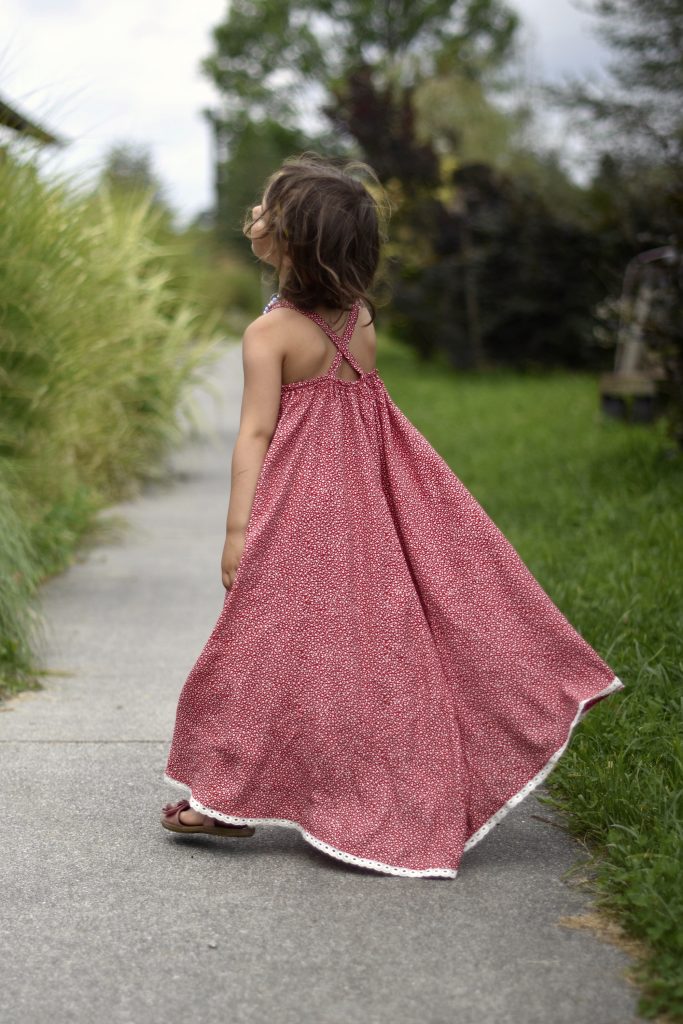 ---
Fabric and pattern: Cascade Maxi by Chalk and Notch in the German translation by Näh-connection. I chose size 4 and lengthened it by two centimetres for my 105 cm tall girl. Rayon and lace band from my mum and therefore are presumably from my grandma originally.
Linked with: Creadienstag, The Creative Lovers, Made for Girls und Create in Austria.