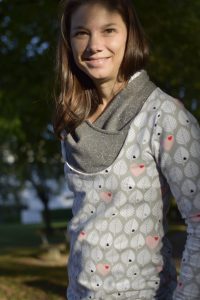 Hi, I'm Sophia and started sewing in 2016 when on maternity leave. From school I just knew how to thread my sewing machine (my sewing machine is a good old Bernina and on permanent loan from my mum, thx mum!)
Starting with easy sewing project for my little »Madame« it was important for me to use organic fabric and try to sew sustainably. At least I don't have to play hide and seek when ordering fabrics: My husband has (at least) as much Lego-sets as I have fabrics and blogs about it at brickgeek.at.
Besides family and job I love getting creative with fabrics, color and materials and combining this with improving my photography skills.
I really appreciate all those blogs out there spending time and effort into their blog posts and I always browse around before sewing a new pattern, try to get some inspiration, experiences and sewing tips. So this as a try to give a little bit back from my side and take part in a mutual exchange of sewing ideas.
A word about my blog-name: »Naehbenschauplatz« is a German pun, combining sewing and a side stage, because this a what I do here: showing my sewing stuff alongside life 1.0.